VIRGINIA DEPARTMENTS OF HEALTH AND GAME AND INLAND FISHERIES PROMOTE BAT AWARENESS AND SAFETY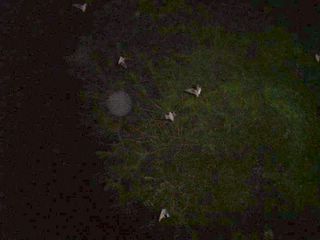 These creatures of the night now officially recognized by Virginia as the State Bats now have a warning from the Virginia Department of Health.

The Virginia Department of Health reports:
"(RICHMOND, Va.)—
The Virginia Department of Health
(VDH) and the Virginia Department of Game and Inland Fisheries (VDGIF) are reminding residents that bats become more active and more visible in our communities during the spring. Bats make important contributions to our environment, but like other wild animals, they can carry potentially fatal diseases such as rabies.
Although most of the confirmed rabid animals in the United States are raccoons (2,635 in 2003), humans are more likely to be infected with bat rabies viruses. Since 1990, 29 of 45 human rabies infections have resulted from bat viruses, and only one human has been infected with a raccoon virus."
(Local news) (Science, sociology, and Medicine)